Vietnamese top leaders have congratulated their Chinese counterparts on China's success in launching its first lunar orbiter on Wednesday, part of the country's program to land an unmanned rover on the moon's surface by 2012 and put a man there by 2020.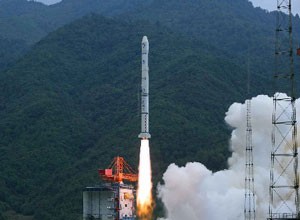 A rocket launches the Chang'e I sattellite (Photo: AFP)
General Secretary of the Vietnam Communist Party Nong Duc Manh, State President Nguyen Minh Triet, Prime Minister Nguyen Tan Dung, and chairman of the law-making National Assembly Nguyen Phu Trong sent the message to General Secretary and President Hu Jintao, Premier Wen Jiabao and Wu Bangguo, chairman of the National People's Congress.
The message partly reads "the launch…marks a turning point in the history of space conquest of China, bringing China up to par with top developed countries. The Vietnamese people wish to join in this joy with our Chinese brethren".
The launch of Chang'e I, which will explore and map the moon's surface, came after Japan last month launched its first lunar probe and ahead of a similar mission planned by India for next year.