The Vietnamese State will always create favourable conditions for Greek and other foreign investors to conduct business and investment activities in the country's territory," said Vietnamese President Nguyen Minh Triet at the Vietnam-Greece Business Forum jointly held by the Vietnam Chamber of Commerce and Industry and the Hellenic Federation of Enterprises (SEV) on June 10.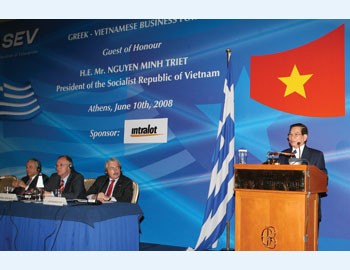 President Nguyen Minh Triet delivers a speech at the Vietnam-Greece Business Forum in Athens on June 10, 2008
At the forum, President Triet invited Greek businesses to explore and set up partnerships with Vietnamese organisations.
He said he believed with the determination of the two business communities, bilateral economic, trade and investment ties would be further expanded and more effective in the future.
Greek Deputy Foreign Minister Petros Doukas said he hoped during President Papoulias's visit to Vietnam in October the two countries would sign agreements on investment protection, double taxation avoidance and others facilitating economic ties between the two business circles.
President Triet also witnessed the signing ceremony of a memorandum of understanding (MoU) on cooperation between the VCCI and the SEV and an MoU on modernising the lottery system in Ho Chi Minh City between the HCM City Lottery Company and INTRALOT S.A. group of Greece .
While in Greece , President Triet toured the ancient capital Nafplio and a grape yard and wine production farm at Nemia in Korinthina province, about 90km from Athens.
On the same day, President Nguyen Minh Triet and his entourage left the Greek capital Athens on June 10, successfully concluding the State visit to Greece at the invitation of President Karolos Papoulias.
At the farewell ceremony at the Greek Presidential Palace, President Triet thanked his Greek counterpart Papoulias and the people of the country for their warm welcome, saying he believed his visit would help bring friendship and all-round cooperation between Vietnam and Greece to a new level.
President Triet again invited the Greek President to visit Vietnam this October and President Papoulias accepted and said he would arrange the visit.