President Truong Tan Sang held a meeting yesterday with head of the People's Supreme Court of Cuba Ruben Remigio Ferro, during which he said Viet Nam was willing to share its experiences and wanted to learn from Cuba's legislative sector.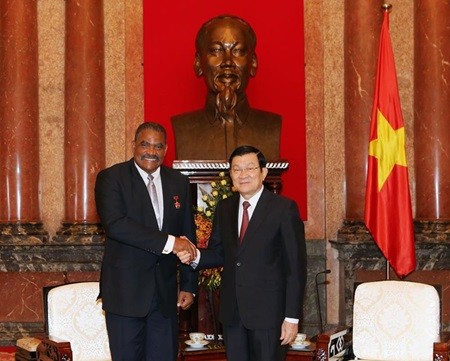 President Truong Tan Sang (right) meets with head of the People's Supreme Court of Cuba Ruben Remigio Ferro in Ha Noi yesterday. — VNA/VNS Photo Nguyen Khang
Sang said that Viet Nam had been through 30 years of doi moi (renewal), and was determined to follow an open-door policy for development while protecting independence and sovereignty.
He stressed that their main goal was to protect the legitimate rights of the State and people, and bring justice to the people in order to consolidate their trust.
Those were hard tasks for the courts, he said.
The Vietnamese President said that the two sides should enhance exchanges in judicial, legislative and training experiences.
He sent his regards to former President Fidel Castro, and congratulated Cuba on its diplomatic successes, especially the normalisation process between Cuba and US which had led to the establishment of embassies in both countries.
Ferro briefed his Vietnamese host on the results of his meeting with his Vietnamese counterpart.
He said that the two sides had exchanged experiences and signed a co-operation agreement. He added that the two sides would also focus on training together, so that Cuba could learn from Viet Nam.
Diplomatic experiences and social and economic development policies in Viet Nam were useful for Cuba, he said.