For the first time, Viet Nam has been ranked 48th on the 2007 Globalization Index which aims to measure countries on their economic, personal, technological, and political integration.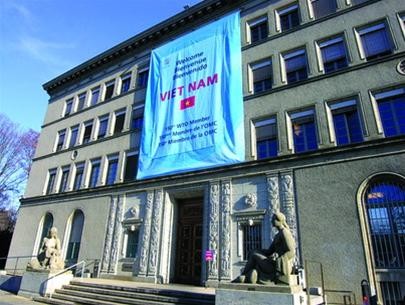 The World Trade Organization hangs up a banner welcoming Viet Nam, the 150th member of WTO, in front of its headquarters in Geneva on Jan 11, 2007
Viet Nam, another of the 10 new countries included in the index, debuted at 48 and ranked 10th in terms of trade, demonstrating its recent progress toward economic liberalization. Export-driven sectors such as textiles and garments helped the economy grow and further integrated Viet Nam into global supply chains.
Viet Nam also gained high ranks in the areas of foreign exchange and economic growth, while the lower ranks came to Internet usage and contribution to UN peacekeeping missions.
This year's index draws on data from 2005, a year that, on the surface, exemplified the limitations of globalization's reach.
With its major breakthroughs in 2006 and 2007, including its WTO entry, the dramatic increase of foreign direct investment (FDI) inflows and the successful bid for a non-permanent seat in the United Nations Security Council, Viet Nam is quite likely to rise in next year's list.
The 72 countries ranked in the 2007 Globalization Index account for 97 percent of the world's gross domestic product (GDP) and 88 percent of the world's population.
The annual study produced by US-based consulting firm A.T. Kearney and Foreign Policy magazine, which assesses the extent to which nations are becoming more or less globally connected, is published in the November/December issue of Foreign Policy.
Singapore ranked first for the third consecutive year. However, Hong Kong debuted very close behind, in second place. The United States dropped four spots to seventh overall, despite its continued strength in the index's technology score.