Viet Nam and the European Union are heading forward in a more equal partnership, leaving behind a donor-recipient type of relationship that has been running for 12 years since the 1995 cooperation framework.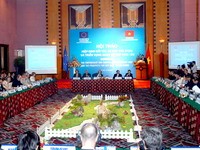 The conference entitled "Partnership and Cooperation Agreement and Prospects of Viet Nam-EU relations" takes place in Ha Noi on October 9

Sandra Callagan, First Counselor and Head of Political, Economic and Trade Section of the European Commission in Viet Nam said the EU-Viet Nam cooperation framework inked in 1995 is no longer capable of demonstrating the developed relationship between the two sides, and a more comprehensive partnership and cooperation agreement (PCA) is needed.

"For Viet Nam, the PCA is really the start of a new phase in our relationship, leaving behind a more dependant relationship and moving ahead into proper partnership," Callagan told a Viet Nam News Agency reporter before the October 9 meeting on Viet Nam-EU relations in Ha Noi.

The lift in the relations, Callagan said, was partly attributed to "the economic development in Viet Nam" as well as the increasing recognition the country has gained from the international community.

"The message most people receive from Viet Nam at the moment is that the country is really expanding its interests, not only focusing on its own development but also interested in participating on a global scale," the EC counselor noted when being asked about Viet Nam joining the World Trade Organization and bid for a non-permanent seat at the United Nations Security Council.

Viet Nam and the EU agreed to launch negotiations for a new partnership and cooperation agreement in May this year after a meeting between EU Commissioner for External Relations and European Neighborhood Policy Benita Ferrero-Waldner and Vietnamese Deputy Prime Minister and Foreign Minister Pham Gia Khiem.

Sources from Viet Nam's Ministry of Foreign Affairs said that the PCA will set the framework for the future Viet Nam-EU relationship, which is expected to cover a wide range of cooperation areas from migration, environmental issues to transnational crimes.

EC counselor Callagan added that science, technology and research are among new areas of cooperation that both sides can work together.

She predicted that there will be no immediate cuts in EC's aid to Viet Nam in the future. The EC pledged 940 million USD in aid for Viet Nam to support the country's reform agenda, rural development and environmental protection, as well as to upgrade health and education sectors and support trade-related issues and governance

The 27-member EU, with a total population of 500 million people, is producing close to 30 percent of the world's production (GDP), and 41 percent and 43 percent of the global trade and investment respectively. The EU-Viet Nam relations are booming, with bilateral trade hitting US$10 billion in 2006 and investment from the EU in Viet Nam reached US$7.4 billion.