Heavy downpours have caused floods and landslides, killing 37 people and forcing nearly 5,500 from their homes, said the government Monday.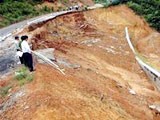 Landslides have wrecked part of the National Highway 28 in the central highlands province of Dak Nong, seriously affecting services on the road.
Torrential rains over this week have swamped over 60,000 hectares of farmland and left nearly 1,000 homes submerged beneath muddy water.
In the northern province of Yen Bai, another swift landslide claimed the life of one man Monday, bringing the rock-fall death toll up to 5.
Overnight rain triggered flash floods Saturday in the northern province of Thanh Hoa, killing two more people, wounding ten others and submerging hundreds of homes.
In the central province of Quang Ngai, as many as five fissures are posing a threat to 600 villagers living below the rockslide-landslide area.
Over 70 families have fled from the rock fall-zone and the rest of the homes will be evacuated by the end of this month, said local officials.

Head of the Central Steering Committee for Floods and Storms, Le Huy Ngo, ordered officials to increase emergency relief in a visit to the disaster zones in Cao Bang and Bac Kan provinces Sunday.

Prime Minister Nguyen Tan Dung sent a message of sympathy to flood victims Saturday and issued urgent directives to local officials to provide food, medicine and clean water to the evacuees.

The weather bureau announced that the heavy rain may be subsiding in north and central Viet Nam although there are currently still several heavy showers in the vicinity.
Government officials expressed concern that although water levels have already peaked in the northern and central highlands and are forecast to sink in a few days but Mekong River in the south is tipped to keep rising.
It is predicted that the water level will reach 3.65m in the Tien River and 2.95m in the Hau River, the two main arms of the Mekong River running through Viet Nam next Friday.

Related Articles:
Flash Floods Kill 33; Three Missing