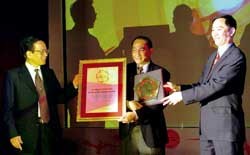 Leaders of the Viet Nam Fatherland Front and VietNam Net awarded the honor title to overseas Vietnamese.
At the Temple of Literature (Van Mieu), Ha Noi, 15 members of the Overseas Vietnamese community were recently presented with the "Viet Nam Glory" award by the VietNamNet Newspaper and Viet Nam Television.
This is the second time VietNamNet awarded the honor title to members of the overseas Vietnamese community who greatly contribute to Viet Nam and help bridge the country and the international community.
Following the theme of "The Lac Hong Ambassadors," Viet Nam Glory 2005 honored those outstanding Viet kieu who have significant achievements in science, arts, business, etc…
Addressing the ceremony, Vice President of the Viet Nam Fatherland Front Le Truyen highly appraised the overseas human resources in the process of building and developing the country.
They will be the typical examples for other overseas Vietnamese to follow and make valuable contributions to their country, said Mr. Truyen.
15 Oversea Vietnameses of "Vietnam's Glory 2005"
1. Mr. Nguyen Quoc Binh, Ph.D. (from Canada) – Vice Director, Center for Bio-technology, Ho Chi Minh City.
2. Mr. Nguyen Trong Binh, Ph.D. (from US.) – Scientist of Molecular Biology and Technology
3. Mr. Nguyen Luong Dzung, Associate Professor (from Germany) – Ho Chi Minh City University of Technology
4. Mr. Nguyen Tri Dzung, Ph.D. (from Japan), Director, Network for International Cooperation and Development (NICD) and Minh Tran Corporation.
5. Mr. Le Ba Dang, Painter (from France)
6. Mr. Nguyen Quy Dao, Professor (from France)
7. Mr. Nguyen Thien Dao, Music Composer (from France)
8. Mr. Bui Minh Duc, MD. (from US.)
9. Mr. Le Phuoc Hung, Ph.D (from US.)
10. Mr. Pham Duc Trung Kien (from US.) – Executive Director, Vietnam Education Foundation (VEF)
11. Mr. Doan Kim Son, Professor (from France) – University of Mechanics and Aero Technology (ENSMA), France.
12. Mr. Le Tu Quoc Thang, Mathematics Professor (from US.) – Georgia Institute of Technology.
13. Mr. Phan Thanh (from Canada) – Chairman, Ho Chi Minh City Association of Oversea Vietnamese
14. Mr. Nguyen Van Tuan, Professor (from Australia) – Garvan Institute of Medical Research, Australia
15. Mr. Nguyen Lan Tuat, Music Professor (from Russia) – Dean of Composer Department, Novosibirsk Academy of Music.
                                                                                (Source: VietNamNet)