Nearly 70 million Vietnamese are eligible to vote in the elections on Sunday, according to the National Election Council (NEC) yesterday.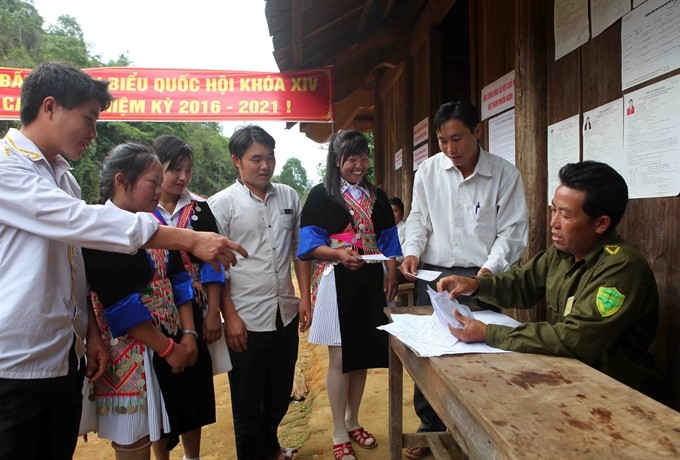 H'mong ethnic-minority voters receive voter cards at an early voting station in central Nghệ An Province's Huổi Mới Village. (Photo: VNA/VNS)
Voters have received their voter cards proving their eligibility to vote at nearly 91,500 election sites across the country, the NEC told reporters in a press briefing yesterday afternoon.    
Election campaigns run by National Assembly and People's Council candidates are allowed to carry on until 7am today – 24 hours before the official voting time. Candidates have been holding meetings since May 2 with more than 69 million citizens nationwide, accounting for about 76 per cent of the total population.
May 22 Election Day will also mark the first time people in custody have been able to vote thanks to a change of law last year.
Nguyễn Ngọc Bằng, head of the Police General Department of Criminal Verdict Execution and Judicial Assistance, said that the 2015 Law on Election of Deputies to National Assembly and People's Councils paved the way for more than 30,000 people in temporary detention to vote in this election.
The department has arranged forces to ensure security and order during the election preparations and election day.
Temporarily detained people have been provided with information of their rights and obligations related to the election as well as polling information.
Early election
Though the official election day is set for May 22, some areas in 10 provinces held early voting due to transport difficulties for voters. Those areas included places along the coastline, offshore islands and places were voters would be working at sea on election day.
The ten provinces were Bà Rịa-Vũng Tàu, Lai Châu, Khánh Hòa, Kiên Giang, Quảng Nam, Quảng Bình, Quảng Ngãi, Nghệ An, Khánh Hòa and Đắk Lắk.
More than 300 officers and soldiers in Lý Sơn island district in central Quảng Ngãi Province yesterday voted for deputies to the 14th NA and all-level People's Councils.
Lý Sơn has more than 16,640 voters who will cast their ballots at 22 polling stations.
The same day, over 28,500 voters in 34 underprivileged communes in the mountainous districts of Tương Dương, Quế Phong, Kỳ Sơn and Con Cuông in central Nghệ An Province voted.
At polling station No 5 in Hữu Khương Commune in Tương Dương District, from 6am, ethnic minority voters went to the polls.
Vi Hoàng Tân, 76, in Sàn Hamlet, said although he had took part in many general elections, each time gave him a special feeling.
"I looked forward to election day and pinned high hopes on the approved candidates," he said, extending his wish that the elected deputies fulfill their tasks and contribute their voice to the national programme on new-style rural area building as well as exclusive policies towards ethnic groups.
Security tightened
Deputy Prime Minister Trương Hòa Bình yesterday asked for collaboration between the traffic police and relevant agencies to ensure safety for the general election.
Speaking at a meeting with the Traffic Police Department to ensure security, order and safety for the elections, Bình urged the agency to perform inspections, forecasts and analysis well.
While highlighting the significance of the political event, Bình said the public security force and the traffic police in particular should be the main forces in the work.
He asked the Department, the Ministry of Public Security and all traffic officers to firmly handle traffic violations, especially at polling stations.
Traffic Police Department Director, Major General Trần Sơn Hà reported that his agency assigned detailed duties to its units and those of localities nationwide to build plans for safeguarding the elections.
The same day, the Deputy PM also had a working session with Hà Nội Police's Department of Road and Railway Transport, during which he stressed the need to ensure political security and traffic safety and order in the city for the elections and for US President Barack Obama's upcoming visit to Việt Nam.
President Obama is expected to arrive in Hà Nội in the early morning of May 23.