Viet Nam's first trade, culture and tourism center, the Viet Nam House, is to be built in Berlin, the capital of the Federal Republic of Germany. The project was unveiled on April 5, 2006.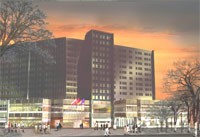 Viethaus will be epened in December 2006
The project was invested by Viethaus AG, a joint-venture between Tan Son Nhat Airport Service Company (SASCO) under the Southern Airport System Complex, and the German HMSKY GmbH Company.
The total investment reaches EUR5 million, of which 50.5 percent is contributed by SASCO and 49.5 percent invested by HMSKY.
Covering an area of 4,500 square meters in the heart of Berlin, the center will showcase Vietnamese cultural identities, including traditional cuisine as well as art performances, poetry readings and fine art exhibitions.
Viethaus is expected to help boost exchange on economics, trade and culture among Vietnamese and German businesses as well as others in the European Union.
Viethaus will come into operation in late 2006.