A meeting to prepare for the upcoming APEC Ministerial Meeting on Avian and Influenza Pandemics was held on May 4 in the central province of Da Nang.
Mr. Bui Ba Bong, Vietnamese Deputy Minister of Agriculture and Rural Development, Vice Chairman of the National Steering Board on Avian Flu Prevention, has officially opened the meeting and passed the agenda of preparatory conference for discussions in the formal conference on May 5.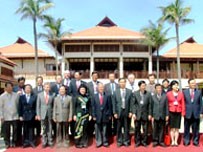 Delegates at the meeting in the central province of Da Nang
At the meeting, the participants discussed three main themes; one is mechanism and solutions by APEC members in preparation and prevention of bird flu; two is measures to strengthen cooperation among APEC members, organizations in other regions, international institutes and private sectors in prevention and combating the avian flu; three is sharing resources arrangements and building capability for members' economies to fight the epidemic.
On the sideline of the conference, Deputy Minister Bui Ba Bong said that Viet Nam would introduced in APEC conference an important initiative, a comprehensive program to prevent bird flu for APEC.
In the initiative, Viet Nam will share its recent experience in preventing bird flu; the way to take advantage of all APEC and international resources to prepare for the short-term and long-term investment programs through media's awareness campaign, breeding and distribution of safe poultry.
Especially, in the action plan to prevent the pandemic up to 2010, Viet Nam will invest USD400 million, of which USD 200 million from capital budget and the remainder is expected from other nations in region, Viet Nam suggested.
128 delegates from 21 member economies of the Asia Pacific Economic Cooperation (APEC) Forum attended the meeting.
Related Articles:
Bird Flu Experts Inspect 'Bio-Secure' Viet Nam Poultry Farm
APEC Agrees Plan to Cope With Flu Pandemic