Viet Nam and Japan on Thursday agreed to start talks early next year on a free trade agreement that the nations hope will almost double their trade by 2010.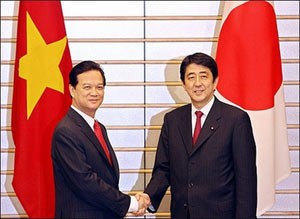 Visiting Vietnamese Prime Minister Nguyen Tan Dung(L) is greeted by Japanese Prime Minister Shinzo Abe in Tokyo. (Photo: AFP)
Vietnamese Prime Minister Nguyen Tan Dung paved the way for bilateral negotiations during a visit to Tokyo, where he met with new Japanese Prime Minister Shinzo Abe.
A joint statement issued after their meeting said, "The two sides decided to jointly create favorable conditions for the business circles of the two countries in order to increase two-way trade to US$15 billion by 2010 from US$8.5 billion in 2005 ."
The statement said the two countries will strengthen cooperation in such fields as energy, environmental protection, science and technology, tourism, education and training.
Viet Nam is one of the world's fastest-growing economies. Its gross domestic product is forecasted to grow by 8.2% this year and it is expected to join the World Trade Organization on November 7.

The Vietnamese PM said Japan is always Viet Nam's number one partner both in development assistance and in trade and investment.
He said Japan's cooperation and assistance are very effective and have made great contributions to Viet Nam's economic achievements in recent years.
The Vietnamese leader proposed that the two sides continue holding regular dialogs in different forms to strategically guide bilateral cooperation.
He also called upon the Japanese side to set up a Viet Nam-Japan cooperation committee at ministerial level soon and increase its official development assistance (ODA) to Viet Nam.
Japan is the largest ODA donor to Viet Nam, having pledged US$11 billion between 1992 and 2005, or about one third of the total international aid to the country during that period, Viet Nam says.

Prime Minister Abe affirmed the two countries' determination to further expand bilateral strategic partnership for peace and stability in Asia, and the world as a whole.
He said Japan would continue to support Viet Nam in its economic reform, poverty reduction, and will encourage Japanese companies to invest in the country.
He proposed that the two countries soon establish a Japan-Viet Nam cultural exchange forum and expressed his support for the prompt implementation of infrastructure projects in Viet Nam.
The two leaders expressed deep concern over recent developments on the Korean peninsular. They protested against the nuclear tests and asked the Democratic People's Republic of Korea not to complicate the situation and early return to the six-party talks.
Also on Thursday, the Vietnamese PM met with representatives of leading Japanese companies such as Mizuho Bank, Nikkei, Mitsubishi, Sojitz, Marubeni, Nomura and Sumitomo. He pledged to further improve its investment climate to support Japanese companies' activities in Viet Nam.
The Vietnamese leader and his wife paid a courtesy call on Japanese Emperor Akihito and his wife Empress Michiko at the Imperial Palace in Tokyo on Thursday.
Earlier, PM Dung met with Japan's House of Councilors President Chikage Ogi, and Yohei Kono, Speaker of the House of Representatives.