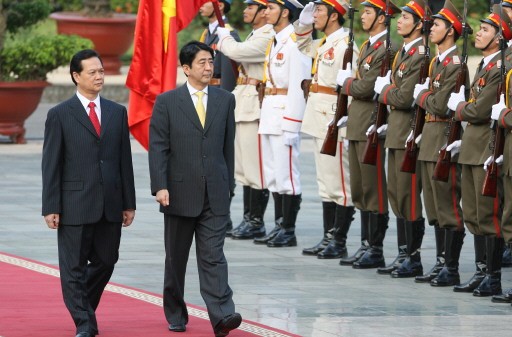 Vietnamese Prime Minister Nguyen Tan Dung (L) and Japanese Prime Minister Shinzo Abe (C) walk past Vietnamese Honor Guards during the Official Welcoming Ceremony for the Japanese prime minister in Hanoi, Nov. 19, 2006.
Viet Nam and Japan have decided to accelerate negotiations to sign a bilateral economic partnership agreement.
The decision was made during the talks held between Vietnamese Prime Minister Nguyen Tan Dung and his Japanese counterpart Shinzo Abe in Ha Noi on Nov. 19.
The two PMs reached agreement on maintaining and strengthening high-level meetings and annual political, economic, diplomatic, security and defence exchanges; efficiently implementing the second phase of the Viet Nam-Japan Joint Initiative; and establishing a joint cooperation committee led by the foreign ministers of the two countries.
The two government leaders discussed the implementation of projects to build North-South railway and highway, and the Hoa Lac Hi-tech Park.
PM Dung welcomed the first visit to Viet Nam by PM Abe, describing the visit as an important milestone marking a new stage of friendship and cooperation between Viet Nam and Japan - the stage of strategic partnership. He expressed his wish for the Japanese Government to continue boosting relations with Viet Nam.
He stressed Viet Nam's consistent policy of attaching importance to friendly and multi-faceted cooperation with Japan. He thanked the Japanese Government and people for their support for Viet Nam's renewal process and providing Viet Nam with economically efficient assistance, particularly maintaining the volume of official development assistance for Viet Nam.
PM Abe congratulated Viet Nam for successfully organising the 14th APEC Economic Leaders' Meeting and attaining World Trade Organisation membership.
He affirmed Japan's consistent policy of placing importance on relations with Viet Nam and continuing to boost bilateral and multilateral cooperation with the country and to help it successfully realise the target of national industrialisation and modernisation.
While exchanging views on regional and international issues, the two PMs affirmed both countries' wish to contribute to peace, stability and development in the Asia-Pacific region and the world through forums, including the United Nations, the Association of Southeast Asian Nations, the Asia-Europe Meeting, the Asia-Pacific Economic Cooperation, and East Asia Summit.
The talks were then expanded with the participation of leaders from big economic groups of Viet Nam and from the Japan Business Federation (Keidanren), led by Chairman Fujio Mitarai, and representatives from 130 businesses accompanying the Japanese PM.
Chairman Mitairai and representatives from Japanese businesses expressed their strong support and their wish to cooperate in major projects of Viet Nam, such as the North-South railway and highway and the Hoa Lac hi-tech park. They proposed that Viet Nam continue to improve its investment environment.