Deputy Prime Minister Pham Gia Khiem said Viet Nam is willing to join the international community in assisting Myanmar to overcome the aftermath of Nargis cyclone.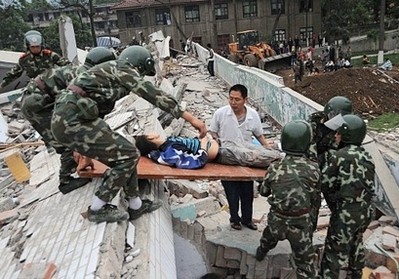 Chinese rescuers remove an injured student from the rubble of a high school in Beichuan County, in China's Sichuan province. China's biggest earthquake for a generation left tens of thousands dead, missing or buried under the rubble of crushed communities, plunging the nation into an all-out aid effort.(AFP/Xinhua/AFP)
Deputy PM Khiem told an international conference for Nargis cyclone victims in Yangon on May 25 that the country has so far mobilised close to 300,000 USD to assist Myanmar.
He said the funds raised are a result of the prompt response from government, social and mass organisations in Vietnam to give a helping hand to Nargis cyclone victims in Myanmar and earthquake victims in Sichuan province in China.
He also said Viet Nam will send a medical mission to Myanmar and join in the ASEAN-managed aid mission and emergency rapid assessment team.
"International community should help Myanmar for a humanitarian purpose and give the highest support to the ASEAN-managed aid mission," Deputy PM Khiem said, adding that Myanmar should also do more to receive international community support.
Deputy PM met with Myanmar PM Thein Sein to share experiences in coping with natural disasters and affirmed Viet Nam's willingness to assist Myanmar to overcome difficulties.
The international conference on assistance to Nargis victims drew representatives from 49 delegations of countries, territories, United Nations organisations and donors.