Party General Secretary Nguyen Phu Trong said the Vietnamese and Lao governments should keep working together to fulfill their responsibilities as members of the ASEAN Community, while receiving Lao PM Thongsing Thammavong yesterday.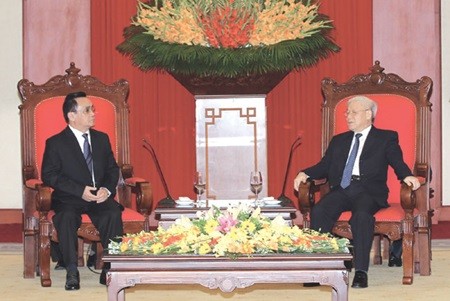 Party General Secretary Nguyen Phu Trong receives Lao Prime Minister Thongsing Thammavong in Ha Noi yesterday. — VNA/VNS Photo Tri Dung
He also urged the two governments to direct their ministries, agencies and localities in implementing agreements signed between the two parties' Politburos.
The Party leader welcomed the Lao PM's visit and wished Laos success in implementing its five-year socio-economic development plan and organising Party congresses at all levels ahead of the 10th National Party Congress.
He confirmed that Viet Nam would do its utmost to elevate its all-encompassing co-operation with Laos to a new height for mutual prosperity, as well as peace, stability and development in the region and beyond.
Trong said he highly valued the two countries' efforts in implementing high-level agreements between the two governments, which contribute to ensuring political stability, security, national defence and socio-economic development in each country.
For his part, the Lao government leader expressed his pleasure at the deepened friendship and comprehensive co-operation between the two nations.
He thanked the Vietnamese Party, Government and people for their valuable assistance to Laos and affirmed his country would work closely with Viet Nam to implement agreements reached by the two Parties and States.
Talks with PM
Prime Minister Nguyen Tan Dung and his Lao counterpart, Thongsing Tham-mavong, yesterday agreed on several measures to boost wide-ranging co-operation between the two countries.
In talks held in Ha Noi, they said both sides would continue implementing effectively the agreements reached at the two Politburos' annual meeting and the 37th Inter-governmental Committee on Viet Nam-Lao co-operation.
Exchange of high-level delegations will be increased, major anniversaries jointly organised and experiences in organising the National Party Congress shared.
Both countries will also intensify efforts to boost two-way trade in the second half of this year to US$2 billion.
Dung suggested that the two sides work closely together to prevent terrorism and sabotage plots, encourage people to jointly manage shared borders, improve living standards of people in border provinces, and build a border line of peace, friendship, stability, co-operation and development.
He also called for joint efforts to prevent drug trafficking and accelerating the search for remains of Vietnamese volunteer soldiers and experts who died in Laos during the war.
The two Prime Ministers agreed to seek financial aid for building transport routes connecting the two countries and implementing effectively the one-stop-check model at the Lao Bao- Densavan international border gate. They pledged to push ahead with co-operation in education, agriculture, rural development, sports, culture, information and communication, science-technology, and tourism.
On regional and international issues, the two PMs shared the view that the maintenance of peace, security, safety and freedom of navigation and aviation in the East Sea was the common interest and responsibility of all nations in the region and the world.
They agreed to strengthen solidarity and co-ordination at ASEAN, regional and international forums to push for the settlement of disputes in the East Sea through peaceful means and in line with international law and regional agreements.
Viet Nam would spare no effort in supporting Laos to successfully perform its role as ASEAN Chair in 2016, Dung said.
He also said Viet Nam supported Laos in developing hydropower on the Mekong River for socio-economic development.
However, the Vietnamese Party, State and people hoped that Laos would share concerns that over 20 million Vietnamese people in the Mekong Delta depend on the water resources from the river for their livelihood, Dung said. The Lao PM said both sides needed to continue discussions on this issue and pay heed to the outcome of joint research on the impacts on hydropower projects in the Mekong River, which is expected to be unveiled in December.
"If the construction of hydropower dams on the Mekong River's mainstream has great impacts on the environment and people's lives, then we should not do it," he said.
NA chairman greeting
National Assembly Chairman Nguyen Sinh Hung received visiting Lao PM Thongsing Thammavong in Ha Noi yesterday.
At the meeting, the Hung praised Laos's recent socio-economic achievements and wished the 10th National Congress of the Lao People's Revolutionary Party many successes.
He told the Lao government leader about the growing co-operation between the two countries' legislative bodies and suggested the two sides continue working closely together in external relations and monitoring co-operative government projects.
The Lao PM said that during his visit he aimed to learn from Viet Nam's experiences in socio-economic development.
Viet Nam and Laos should continue to exchange high-ranking officials and enhance the implementation of agreements signed between the two governments in the fields of defence, security, economics, and trade, he added.