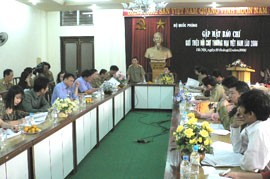 The press conference
Viet Nam – Laos Trade Fair 2006 themed "Friendship, cooperation and Development" will take place from November 30 to December 5 in Vientiane – Laos's capital.
There are 100 stands in the fair including Viet Nam's 80 and Laos's 20.
The fair, an economic and political activity, aims to bolster up Vietnamese enterprises' exports into Laos' market.
Vietnamese ministries of Defense, Trade and Laos's Trade Ministry Friday held a press conference on the fair.
On this occasion, the organizers and Army Medical Institute along with Laos' Army Hospital 103 will provide examination, treatment and free medicine to Laos's families of needy wounded, sick soldiers and veterans.