The second one-month session of the 12th legislature is to begin Monday in Ha Noi, which will focus on 7 new laws, on the socio-economic tasks and budgets for the year 2008.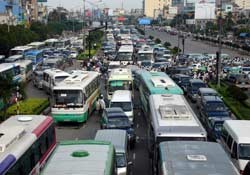 Traffic jams are a major concern for legislators
The National Assembly, Vietnam's unicameral legislature, will consider passing 7 new bills: the personal income tax, the law on product quality, law on preventing family violence, on preventing infectious diseases, on chemicals, on amnesty, and on judicial assistance.
It will also discuss 5 other bills which are still being drafted: on the compulsory purchase and requisition of personal or organizational property, on atomic energy, on Red Cross activities, on the use and management of state property, and on procedures in issuing legal documents.
Nguyen Sy Dung, deputy chairman of the National Assembly Office, the legislature's administrative organ, said during a press conference Saturday that the upcoming meeting will see shorter and more concise reports and will concentrate on discussion and debate rather than just passive listening.
But he said it will not discuss corruption since there are more urgent issues at hand emerging in the last two months but legislators still have the right to question government ministers on this.
When asked why the National Assembly's Standing Committee has not sent a report on compensation and land acquisition for public projects to legislators prior to the session, Dung said this matter is serious and must be delved deeper.
The legislature needs more time for this, he added
Less red tape, traffic jams and more compensation in site clearance
Ho Chi Minh City residents have told legislators they want the National Assembly to revise the Housing Law by retaining land-use certificates [land titles] whenever the land changes hands to new owners.
Currently, such a transaction demands new certificates, which puts a heavy strain on issuing agencies and the people concerned.
They also want the legislature to issue a law on administrative procedures besides revising and amending the Ordinance on Public Officials to enable them and their organs to work more effectively.
They also suggest lawmakers discuss passing a law on urban planning and have appropriate policies regarding relocatees who lost land to public projects. They too demand higher compensation rates.
HCMC residents also voiced their concern about traffic jams, rising costs and low salaries.
They want the government to speed up projects on subways, monorails, and revise bus routes as well as moving seaports away from the city center.
This second session, to be held at the hall of the Ministry of Defense, will wrap up on November 22. The first such meeting took place in July.