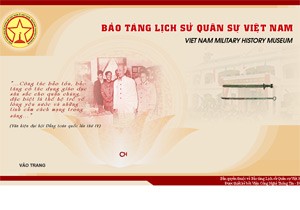 "www. btlsqsvn.org.vn"
Viet Nam Military History Museum launched its first-ever website "www. btlsqsvn.org.vn" July 13 to help visitors access the Vietnamese history from the founding day to the present.
The website, comprising 13 pages, presents the images of scientific, artistic, or historical importance, relevant to Viet Nam's military operations in the past.
Information of seminars and meetings will also be posted on the site so that visitors could attend.
In addition, readers who want to learn more about the Vietnamese victories in the war time could visit the website to read about the lives of some well-known generals and militants featured on the web pages.