From November 14, 2006 to date, Viet Nam has had no H5N1 case on human for 6 months as it announced in the meeting of the National Steering Board on Bird Flu Prevention and Control on May 24 in Ha Noi.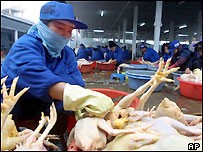 Chicken were checked before going into market
However, the world situation has become complicated. According to World Health Organization (WHO)'s announcement, on May 18-19, Indonesia Health Ministry has recorded 8 new H5N1 cases, of which 7 died.
Currently, WHO in cooperation with Indonesia local authorities have clarified whether there is human-to-human transmission of the virus.
Viet Nam's Health Ministry is thus building a biological safety laboratory of class 3 at the National Institute of Hygiene and Epidemiology for prompt and accurate testing of samples.
Training courses are being provided by Health Ministry on H5N1 prevention measures in localities nationwide. Health authorities continue directing inspection teams at borders to supervise those coming from countries with the previous SARS virus into Viet Nam through border gates.