The heavy floods in northern Viet Nam as a result of Typhoon Hagupit began to gradually recede on Saturday. More than 40 people have been killed or are missing in the flooding.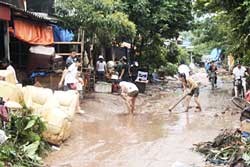 Residents in Tien Yen district, Quang Ninh province, clean up a road after the flooding
Local authorities and disaster agencies are continuing their rescue and relief efforts. 
According to the Central Steering Committee for Flood and Storm Prevention and Control, the floods, which began September 24, have caused great damage and loss.
As of Saturday at least 42 people have been killed or missing and 33 injured, some 2,500 houses swept away, and 100,000 hectares of rice and other crops inundated.
In Bac Giang Province, 1,700 soldiers and 110 relief vehicles have been sent to the worst hit districts of Luc Ngan and Son Dong to rescue and move residents to safe places.
Authorities have delivered 3,000 boxes of instant noodle, 2,500 bottles of drinking water, 500 kilograms of cholera medicines, and other supplies to the flooded areas.
In Quang Ninh Province, authorities in Tien Yen District have provided each flood-affected household VND300,000 in cash and several boxes of instant noodles. 
The province-based naval forces and health department have delivered clean water, food, medicines, life jackets, and other necessities to people in flooded areas, particularly those cut off by the waters.
By Saturday evening, the fiber optic cable running between Ha Long and Mong Cai was restored two days after being damaged by flooding. The section of Highway 18A running through Tien Yen District has been temporarily patched up to allow traffic. 
In the past few days, the National Search and Rescue Committee has mobilized over 5,000 soldiers and militia and a large number of vehicles, including six amphibious vehicles and 20 speed boats, for rescue and relief activities in the flooded provinces. 
Tropical depression forms in East Sea

A low pressure area in the middle of East Sea developed into a tropical depression by Saturday noon, and lay centered near the Paracel Islands.

The area near the eye had winds measuring force 6 (39-49 km per hour) and stronger gusts.

The depression is forecast to be stationary for the next 24 hours, and will cause rough seas near the Paracels.

In a message on Sept. 27 to the coastal provinces of Nghe An, Ha Tinh, Quang Binh, Quang Tri, Thua Thien – Hue, Da Nang, Quang Nam, Quang Ngai, Binh Dinh, Phu Yen, Khanh Hoa, Ninh Thuan, Binh Thuan and disaster-prevention agencies, the Central Committee for Flood and Storm Prevention and Control asked them to prepare for the storm and keep fishing boats at sea informed about its movement.