National Assembly Chairman Nguyen Phu Trong has called on Australian businesses to invest in Viet Nam, saying Viet Nam considers Australia an important partner.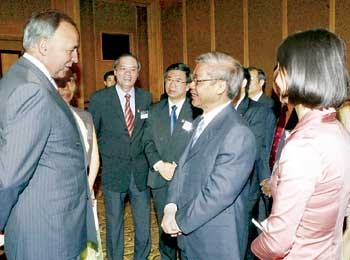 NA Chairman Nguyen Phu Trong talks with delegates participating in the Vietnamese-Australian Business Forum held on the ocassion of his visit in Australia.
At a meeting with around 100 Vietnamese and Australian business representatives in Sydney yesterday, Chairman Trong said Viet Nam opens its doors to Australian investors and was making efforts to improve infrastructure and promote administrative reform to create the most favorable investment environment.
He said the Vietnamese National Assembly was continuing to perfect the legal system and join hands with the Vietnamese government and businesses to further promote the two countries' economic cooperation, trade and investment ties.
According to Chairman Trong, Viet Nam-Australia cooperation has made good progress, however the two countries still have great potential to develop cooperation in economy, trade and investment.
Australia currently ranks 17th among foreign countries and territories to invest in Viet Nam, with a total investment capital of nearly US$800 million, a modest figure compared to about US$21 billion in direct foreign investment into Viet Nam last year.
Former Australian Foreign Minister Paul Keating and leaders of many major Australian companies such as ANZ and Santos attended the event.
Chairman Trong also met with the heads of Qantas airlines and Commonwealth Bank of Australia.

A number of major contracts were signed between businesses of the two countries.