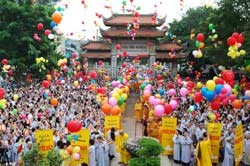 The annual Buddha's Birthday is solemnly held at Vinh Nghiem Pagoda, Ho Chi Minh City
Answering a Viet Nam News Agency correspondent's question on the recommendation by the US Commission on International Religious Freedom to the US Secretary of State that Viet Nam be kept on the list, Foreign Ministry Spokesman Le Dzung said the recommendation fails to accurately reflect the situation of religious freedom in the country.
Mr. Dzung stated, " The State of Viet Nam respects and guarantees the right of freedom of religion and belief and the right of freedom of non-religion or non-belief."
He cited legal documents on religion such as the Ordinance on Religion and Belief and the Prime Minister's Directive on Some Tasks for Protestantism, which systematically introduces a series of fundamental rights and responsibilities regarding freedom of religion and belief in order to create favorable conditions for religious activities.
"These legal documents stipulate the responsibilities of state agencies in managing religious activities in the direction of facilitating religious organisations and individuals in Viet Nam. The implementation of these documents has met the demand of religious activities of practitioners and dignitaries of various religious organisations in Viet Nam, thus bringing about evident changes in the religious life," he said.
The spokesman remarked that the Viet Nam-US relations have undergone positive development. "The two countries share common interest in further strengthening the bilateral relationship in the framework of stable and sustainable partnership. Despite some differences, the two sides have agreed, through open and candid dialogues, to reduce their differences, including those on religious issues."
Mr. Dzung also said that during recent contacts, the US side has recognised positive developments in religion in Viet Nam and pledged to consider removing the country from the CPC list.

"Viet Nam hopes that the US will make the right decision in conformity with the principles of bilateral relations in the spirit of mutual understanding and respect, in the interest of the two countries," the spokesman concluded

Source: VNA