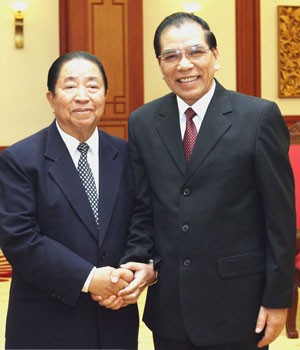 Party General Secretary Nong Duc Manh (R) receives the visiting President of the Lao Front for National Construction in Ha Noi on June 26
Viet Nam is always proud of its traditional friendship, special solidarity and comprehensive ties with Laos, said Party General Secretary Nong Duc Manh while receiving a high-level delegation from Laos in Ha Noi on Tuesday.
The Lao Front for National Construction (LFNC), led by its President Sisavath Keobounphan, is currently paying a working visit to Viet Nam.
Viet Nam-Laos relations have been built and nourished from generations to generations with fruitful cooperation between mass organizations of the two countries, the Party chief said.
For his part, LFNC President Keobounphan informed his host of recent socio-economic progresses in Laos, which he said, was yielded from concerted efforts made by the Party, State and people of Laos.
He highlighted the friendship and effective cooperation between the LFNC and the Viet Nam Fatherland Front and other relevant Vietnamese ministries and agencies.