That Viet Nam is selected to host the United Nations Day of Vesak and the fifth International Buddhist seminar is a pride of the whole nation, President of the Viet Nam Fatherland Front (VFF) Huynh Dam said to the Viet Nam Buddhist Sangha (VBS)'s dignitaries during his May 11 visit to the VBS on the occasion of the Lord Buddha's birthday in 2008 (the 2552nd year of the Buddhist calendar).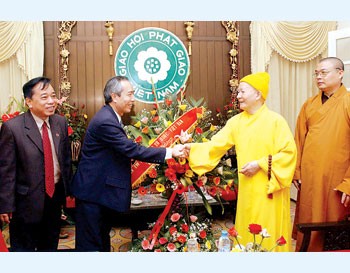 Mr Huynh Dam congratulates the Viet Nam Buddhist Sangha's dignitaries on the occasion of the Lord Buddha's birthday in 2008.
The VFF President extolled the great contributions of the VBS to the national liberation in the past, saying that the tradition has been upheld and developed during the current national construction.
He expressed wish that the VBS would uphold its role as a member of the VFF by going on with its participation in the national socio-economic development, particularly in the drive to build a culturally-styled life in residential areas.
Most Venerable Thich Thanh Tu, Vice Chairman of the VBS's Executive Council expressed thanks to the Party and State for their support to the Sangha in religious practice.
He said that the hosting of the Vesak celebrations showed the international community's confidence in Viet Nam . He affirmed that the VBS would always encourage monks, nuns and followers to exert their efforts to the national development.