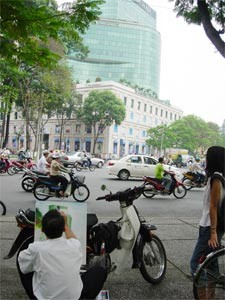 View of a crowded street in Viet Nam (Photo: Hoang Uy)
Viet Nam is ranked 109th of 177 nations in the Human Development Report 2006, according to the United Nations Development Program (UNDP).
Viet Nam has made progress in poverty reduction and human development for more than a decade, according to John Henra, chief of UNDP Viet Nam. Vietnamese life expectancy is 70.8 years old, ranked 83 of 177.
Adult literacy is up to 90.3 percent, ranked 56 of 177. Per-capita income reaches over US$500 a year, ranked 118 of 177.
In addition, UNDP recommended the government to strongly reduce poverty in remote areas and quickly narrow the current gap of economic development between many provinces.
It also asked the government to focus on health care and water supply in remote areas.
Regarding Gender Development Index, Viet Nam has the highest percetage of women working in politics, which helps put Viet Nam's Human Development Index into the group with average level.