Prime Minister Nguyen Tan Dung held a reception for UN Under-Secretary-General Herve Ladsous in Hanoi on June 10, affirming that Viet Nam is ready to send more officers to UN peacekeeping missions around the world.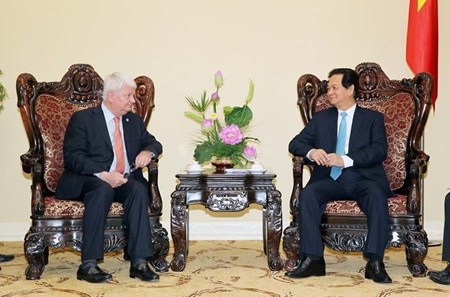 Prime Minister Nguyen Tan Dung (right) held a reception for UN Under-Secretary-General Herve Ladsous in Hanoi on June 10. (Photo: VNA/VNS)
Having experienced devastation and loss through wars, Viet Nam always treasures peace and wishes to contribute to world stability, he stated.
As a member of the UN, Viet Nam is aware of its responsibility to join the union's peacekeeping operations and is working to realise its obligation, said the PM.
He suggested the UN continue supporting and assisting Viet Nam in participating in the operations more effectively.
The Government leader also spoke highly of the role of the UN in maintaining international peace and security, contributing to resolving disputes through peaceful measures, especially in the context of complicated security situations in the region and the world, including in the East Sea where there are now actions threatening peace, maritime and aviation stability safety and security.
For his part, Herve Ladsous said the UN lauds Viet Nam's efforts in peacekeeping operations by sending officers to UN missions in South Sudan and Central Africa.
The UN hopes to receive more Vietnamese officers to other missions, he said, expressing his hope that the country will continue supporting UN peacekeeping efforts.
He applauded Viet Nam's proposal to launch a level 2 field hospital in 2015 and an engineering team at the end of 2016 to UN missions, and the signing of agreements with the UN on allocating military medical and engineering units to specific missions and sending men to work in peacekeeping bodies at UN headquarters.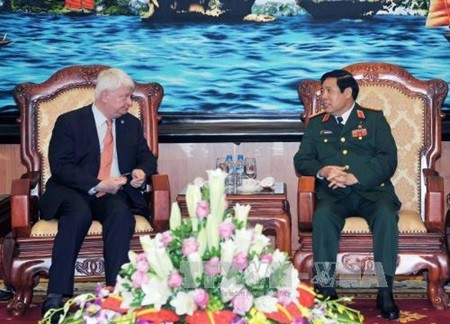 Vietnamese Defence Minister General Phung Quang Thanh meets with UN Under-Secretary-General Herve Ladsous in Hanoi on June 10. (Photo: VNA/VNS)
As an experienced diplomat in the region, Ladsous is aware of the complications and seriousness of the East Sea situation and shares Viet Nam's approach to the settlement of the issue through peaceful measures in line with international law.
On the same day, Ladsous also met with Vietnamese Defence Minister General Phung Quang Thanh, where the two sides discussed co-operation such as increasing the participation of Vietnamese officers in UN peacekeeping missions and opening short-and long-term training courses in the field.
Ladsous said his ongoing visit to Viet Nam was designed to share experience and increase UN assistance to Viet Nam in preparation for peacekeeping activities.
Minister Thanh underlined the significance of the visit, which took place in the context of Viet Nam's commitment to join UN peacekeeping missions and global efforts to build a world of peace and prosperity.
He thanked the UN for its support for Viet Nam since the country joined UN peacekeeping missions last year.
Viet Nam had moved ahead with legal procedures, training, logistics and technical work, external affairs, international co-operation and building the Viet Nam Peacekeeping Centre, he said.