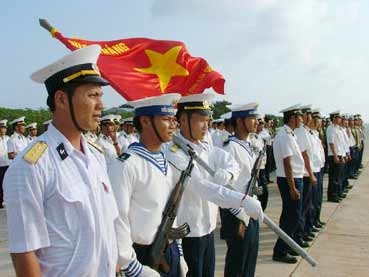 Vietnamese soldiers in Truong Sa archipelagos (Photo: Thanh Nien)
Viet Nam has full historical and legal evidence to affirm its sovereignty over Hoang Sa (Paracel) and Truong Sa (Spratly) archipelagos, Vietnamese Foreign Ministry spokesman Le Dung reiterated on May 5.
The spokesman made the statement while answering reporters' questions about a plan by the head of the Taiwanese military to visit the Ba Binh Island in Truong Sa archipelago on May 7.
Viet Nam resolutely objects to all activities violating its sovereignty over the two archipelagos, the spokesman said.
Viet Nam insists the Taiwanese side cancel its plan to inspect the Truong Sa archipelago.