Houston (VNA) - Viet Nam always considers the United States as a leading education partner and commits to creating favorable conditions for US investors in this area.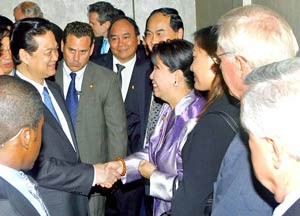 Prime Minister Nguyen Tan Dung (2nd,L) is greeted by Texas business executives
Prime Minister Nguyen Tan Dung delivered the message while attending a seminar dubbed "Education initiative with Viet Nam" in Houston, Texas, on June 26 - the last day of his visit to the US.
"Viet Nam and the US agreed to boost education cooperation and establish a task force for the purpose," the government leader noted, adding that several cooperation agreements were signed during his current four-day trip.
PM Dung expressed his delight at fruitful developments in bilateral relations in many fields, particularly in economics, trade and investment.
He went on to say that encouraging progress has been recorded in educational cooperation, however, the obtained achievements have yet to commensurate with potentials and strengths of both sides.
On the occasion, the PM had direct dialogues with US investors on a wide range of issues regarding Viet Nam's education, including the quality, models and training scales.
Also on June 26, he attended a Viet Nam-US business forum which gathered representatives from close to 300 local businesses.
About his talks with President George W. Bush two days earlier, the PM stressed that both sides agreed to make greater efforts to remove difficulties and obstacles in order to facilitate bilateral trade and investment ties.
PM Dung also assured the entrepreneurs of his willingness to hold meetings to increase mutual understanding and cooperation for mutual benefits.
Following the forum, Vietnamese businesses signed a number of contracts with US partners, including an agreement between the Viet Nam National Coal and Mineral Industries Group (Vinacomin) and Conoco Philip to explore and exploit coal in the Red River Delta, and a deal by the Viet Nam Garment and Textile Group (Vinatex) to buy cotton products from Texas.
In June 26 evening, PM Nguyen Tan Dung and his entourage left Houston, wrapping up their official visit to the US.