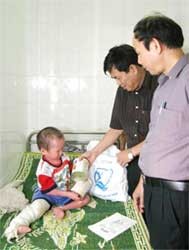 Mr. Nguyen Dinh Thiet (first R) gives gifts to an underprivileged kid
Human Rights Watch recently accused Viet Nam of abusing street children in Ha Noi by rounding the children up and placing them in detention centers ahead of the Asia Pacific Economic Cooperation summit. Viet Nam's Ministry of Foreign Affairs has vehemently denied the accusation.
Nguyen Dinh Thiet, director of the Children's Department of the National Committee for Population, Family and Children, told Sai Gon Giai Phong newspaper that the claim was a distortion, and that Viet Nam was focusing more closely on protecting children.

The distortion of reality is like the one made during the 23rd South East Asian Games and shows ill will towards Viet Nam as well as its policy of protecting and taking care of children, Mr. Thiet said.

However, it can't damage the Vietnamese government or the people's efforts to protect and take care of children in general, or the policies on street children in particular.

Returning street children to their homes and integrating them into the community has been a major policy of Viet Nam's Party and Government for 20 years.

The policy is all about maintaining children's rights. If children wander the streets and sleep rough, their four rights - living with parents, going to school, growing up ordinarily and not being abused - cannot be protected.

The number of street children in Viet Nam was highest in 1995 and 1996, when it exceeded 50,000.

However, with the national campaign to reunite street kids with their families and help them feel useful members of society, especially in Ho Chi Minh and Ha Noi, the figure decreased markedly year by year.

Now there are only 6,000 street children or so, while most of the others have gone to school and had a more normal life after returning home.
Viet Nam has always given priority to protecting its children and trying to keep every one of them from falling into destitution.
Viet Nam was the first Asian country committing itself to protecting children under the U.N. Convention on the Rights of the Child.
The country enacted the Law of Protecting, Caring for and Educating Children in 1991. This law was amended in 2004 to improve the policies for children, especially underprivileged kids.
In the original law, the National Assembly mentioned only two types of underprivileged children - orphans and handicapped kids. The amended law expanded the definition to ten categories, including street children.

This number would be 12 if child slaves and the victims of domestic violence were included.

This decade Viet Nam is implementing the National Action Program for Children, which was launched in 2001.

The U.N. and other international organizations have highly appreciated Viet Nam's success in protecting and taking care of children.

It's been 16 years since Viet Nam signed the U.N. Convention and its children have never had the opportunities to grow and flourish that they have now.

The accusation by Human Rights Watch is a fabrication and is somewhat akin to a fish completely out of water.