Spokesman Le Dung made the criticism at a press briefing in Ha Noi on March 9 in reply to a question about Viet Nam's reaction to the report.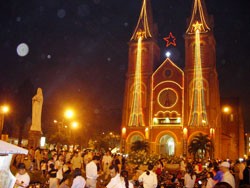 Ho Chi Minh City residents celebrate Christmas 2005. Religious freedom is constitutionally guaranteed in Viet Nam (Photo: Tuong Chau)
Spokesman said the 2005 Human Rights Report of the US Department of State made many erroneous and prejudiced comments on human rights in Viet Nam, citing unilateral and distorted information that failed to reflect the reality in Viet Nam. We therefore absolutely reject those wrongful comments.
Over the years, Viet Nam has made great efforts to enable the Vietnamese people to enjoy better and greater civil rights, which are highly appreciated inside and outside Viet Nam. The Vietnamese are increasingly participating in governance of society and voicing their will and aspiration in matters related to major events of the country. This is illustrated by the fact that Vietnamese people from all walks of life throughout the country and in other countries are contributing their comments to the draft reports of the Tenth National Congress of the Communist Party of Viet Nam, an important social-political event of the country.
Viet Nam respects and protects citizens' right to freedom of belief and religion, and the right to freedom of non-belief and non religion. Numerous legal regulations have been introduced, facilitating belief and religion activities. In Viet Nam there is no religious repression or ethnic discrimination. No one is detained for having different political views or for religious reasons. Only violators of laws are dealt with in accordance with legal regulations.
As a result of difference in political systems, development levels, history and culture, there are different views and approach towards human rights among countries, including Viet Nam and USA. It is unacceptable for one country to impose its view and approach on other countries.
As agreed by the leaders of the two countries on "developing constructive partnership, friendship and multi-faceted cooperation of equality, mutual respect and benefit" and "continuing frank and open dialogue on matters of mutual concern", the two countries have resumed dialogue on human rights between the two foreign ministries.
We hope that through contacts and dialogues, the two sides will obtain greater understanding and bridge the gap in religious and human rights issues, contributing to promotion of relations in line with the two peoples' interest.
Source: The Vietnamese Ministry of Foreign Affairs
Related Links: