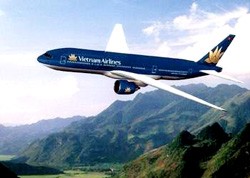 Number of flights between Ho Chi Minh City and Seoul will be double
The decision came as part of an agreement signed between the Civil Aviation Administration of Vietnam (CAAV) and the Republic of Korean Ministry of Construction and Transportation in Seoul last Friday, said Lai Xuan Thanh, a CAAV official.
The two aviation authorities have also allowed the doubling of the number of flights between Ho Chi Minh City and Seoul to meet the growing demand of travel.
"The agreement comes into effect immediately," Mr.Thanh said. "Actually increase flights will depend on the two airlines' decisions", he added.
At present, there are eight flights a week between the two destinations. The agreement allows a total of 16.
According to state-run Vietnam News Agency, Vietnam Airlines last year transported 180,000 Republic of Korean passengers, a 30 percent increase over 2004.
Republic of Korea is the fourth foreign investor in Viet Nam.
Source: AFP