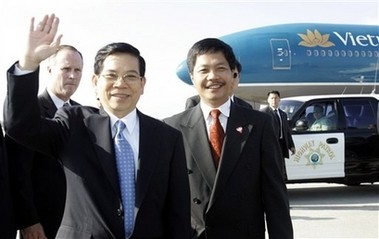 Vietnamese President Nguyen Minh Triet waves as he arrives in Los Angeles Friday June 22, 2007.
In the interview of CNN broadcast in the program "Late Edition" on June 24, Vietnamese president Nguyen Minh Triet confirmed Viet Nam loves and respects Human Rights.
In order to dispel prejudice over Viet Nam's human rights and democratic, the president reaffirmed: "I would like to tell you that Viet Nam has experienced long years of war to regain freedom, independence, and sovereignty. Many of Vietnamese were arrested, imprisoned, tortured. We conducted the liberation war in order to regain our human rights. And therefore, more than anybody else, we love human rights, we respect them"
Explaining why Viet Nam and the United States have different points of view on different issues, president Triet said: "I think that Viet Nam and the U.S have different histories, law systems and that is the reason why Viet Nam and the U.S. have different acknowledge on many issues."
Regarding on protest of Vietnamese-Americans, the president said that Vietnamese-Americans were part and parcel of the Vietnamese nation.
"Vietnamese Government wants to see their success in the U.S. and hopes they will become the bridge between the U.S. and Viet Nam", confirmed the president.
"We invite them to come back to visit Viet Nam in order to see with their own eyes our changes, our improvements," he added.
Answering the question on the historic visit to the U.S., president Nguyen Minh Triet said he never thought, even after the war" of becoming the first Vietnamese president to visit his country's war-time enemy.

"And that's why this visit of mine to the United States is historic," he said.