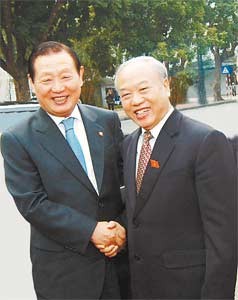 NA Chairman Nguyen Van An (R) shakes hands with RoK National Assembly Speaker Kim Won Ki in Ha Noi on January 15 (Photo: SGGP)
Viet Nam and the Republic of Korea (RoK) reached an agreement in Ha Noi on January 15 to boost cooperation between their two national assemblies.
Vietnamese National Assembly Chairman Nguyen Van An signed this agreement with RoK National Assembly Speaker Kim Won Ki during his visit to Viet Nam from January 14 to 18.
During talks held before the signing, Mr. An said the Korean NA Speaker's visit shows that cooperation between the two countries is developing strongly, and cooperation between the two parliaments will boost trade and investment ties for both nations.
Mr. An affirmed that Viet Nam's policy is to facilitate business activities of foreign enterprises, including those from the RoK. Viet Nam appreciates Korean investment, especially in manufacture, Mr. An said, adding that he expects more Korean investment would go to this field.

Mr. Kim Won Ki told reporters after the talks that there is now an investment surge from the RoK to Viet Nam. The RoK places emphasis on ties with Asia-Pacific countries, especially with Viet Nam.
Since Viet Nam and the RoK established diplomatic ties in 1992, the latter has been one of the biggest investors in Vietnam, ranking second in the past five years, said Mr. Kim Won Ki.
"The RoK will keep being a leading investor in Viet Nam," he added.
Taking part in his Viet Nam visit were also representatives of almost 20 leading Korean companies. Mr. Kim Wong Ki said he expected they would get many business opportunities in Viet Nam, especially in cooperation in scientific research and industrial manufacture.
After the talks, the two legislative chiefs witnessed the signing of a Korean commitment to donate US$10 million to Viet Nam to buy 200,000 chalkboards for primary school pupils and US$2 million to build bus stations in Ha Dong Town in Ha Tay Province.
Facts and Figures:
Investment: RoK is now the fourth largest investors in Viet Nam, with 642 projects in operation with more than US$4.1 billion in combined capital. RoK ranked second in 2002 with 150 projects totally worth more than US$267 million, and also second in 2003 with 171 projects – US$343.6 million.
Trade: RoK ranks 10th in the export markets of Viet Nam. Bilateral trade valued about US$4 billion in 2005. Viet Nam's main exports include aqua-products, garment and textile items, crude oil, footwear, coffee and rubber. RoK's main exports include textile and garment materials, leather, machines, equipment, steel, electronic and computer accessories, fertilizers, autos and petroleum products.
Related Articles: