Viet Nam accords priority in its foreign policy to building a strategic partnership and comprehensive cooperation with Russia, State President Nguyen Minh Triet said yesterday.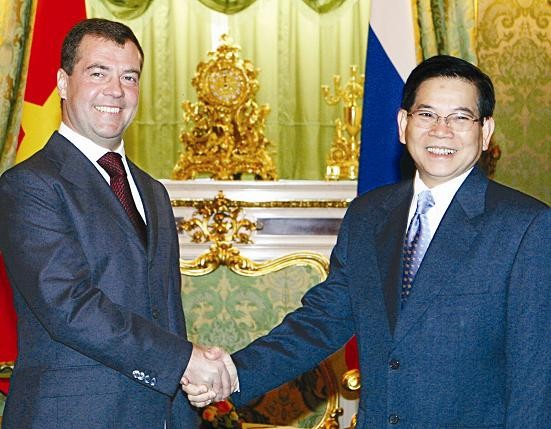 Russian President Dmitry Medvedev (L) welcomes Vietnamese President Nguyen Minh Triet (Photo: SGGP)
In talks with his Russian counterpart Dmitry Medvedev at the Kremlin Palace, the leaders of both nations appreciated the progress made in cooperative relations between the two countries in politics, foreign affairs, security, defense, trade, investment, education - training and science - technology.
Russia highly values Viet Nam's role in Southeast Asia and Asia, and considers its relationship with the country a foreign policy priority for the region, said President Medvedev.
The two sides agreed to expand cooperation in the fields of petroleum, energy, machinery manufacture, mining, banking and telecommunications on the basis of equality and mutual benefit.
The two leaders also exchanged their opinions about international and regional issues of mutual interest, affirming that the two countries would continue supporting each other on international arenas.
President Triet's visit to Russia will help strengthen the traditional friendly relations and strategic partnership between the two countries to serve the interests of each country's people, and for peace, stability, cooperation and development in the region and the world, said the Russian leader.
The two leaders witnessed the signing of many important cooperation pacts between the two countries in such fields as intellectual property protection, prevention of illegal immigration, repatriation of citizens and a protocol on the execution of this agreement.
The two governments also signed an agreement on temporary work by Vietnamese citizens in Russia and by Russian citizens in Viet Nam.
Viet Nam and Russia will continue co-operation in oil and gas exploration and exploitation through the joint venture Vietsovpetro, and a medium-term joint action plan for trade and investment until 2012.
The two sides also signed an agreement on sharing information between the Vietnam News Agency and Russia's ITAR-TASS, and a memorandum of understanding on cooperation in setting up a bauxite and alumina mining and processing complex in Viet Nam.
Later, in a meeting with Russian Prime Minister Vladimir Putin, President Triet said Viet Nam supports Russia in developing multifaceted relations with ASEAN countries. He also said the two countries need to strengthen close coordination at regional and international forums.
PM Putin said Russia always attributed great significance to fostering its strategic partnership with Viet Nam, and boosting bilateral ties in economics, trade and investment to higher levels.