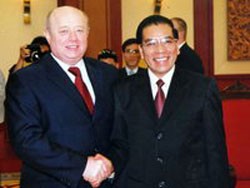 General Secretary of the Communist Party of Viet Nam Nong Duc Manh (R) shakes hands with Russian Prime Minister Mikhail Fradkov
After receiving his Russian counterpart Mikhail Fradkov on Feb 16 in Ha Noi, Vietnamese Prime Minster Phan Van Khai informed the mass media that the two countries will boost their mutual cooperative relations in economy and commerce fields.
The bilateral trade turn-over of Viet Nam and Russia will reach US$2-3 billion by 2010, a remarkable increase over US$1 billion in 2005.
In a previous meeting, Prime Minister Phan Van Khai was quoted that the current bilateral trade turnover of US$1 billion proves a low one, in which Viet Nam's export turnover to Russia is currently US$260 million and its import US$750 billion.
According to the Vietnamese prime minister, Russia should have more tax incentives to encourage investment from a developing country like Viet Nam. Also, Russia can widen its market to import some Viet Nam's major products such as rubber, coffee, tea, aquatic products, wood-ware, and handicrafts.
Meanwhile, Russian Prime Minister Fradkov said that his country has always considered Viet Nam a strategic partner. Together with the bilateral trade cooperation, Russia will have policies of financial support toward Vietnamese enterprises. Russia will expand the cooperation in the fields of energy, transport, machinery manufacture, oil and gas exploration and production, and electric energy development in Viet Nam.
The two prime ministers unanimously approved a plan to establish the Vietnamese-Russian cooperative bank to help with international payment.
The two governments also planned to discuss with China on the establishment of a Viet Nam-Beijing-Moscow air route with simplified visa predures, aiming at promoting the tourism industry.
Addressing the ceremony, Russian Prime Minister Fradkov confirmed on Russia's stability in the strategic principle of bilateral relations, which was signed five years ago.
The Russian prime minister also stressed that it is very important to hold summit of the two countries' leaders, which will help strengthen the bilateral cooperation.
Moreover, the Russian prime minister pledged to support Viet Nam on the international and regional forums and expressed his belief in the success of the coming APEC Summit, hosted by Viet Nam in 2006.
On this occasion, Viet Nam and Russia also signed agreement drug-trafficking control and a protocol on the amendment of the agreement on training Vietnamese citizens at Russian training establishments and universities, which was signed in 2002.

On the afternoon of the 16th, the Russian prime minister met with Vietnamese Chairman of the National Assembly Nguyen Van An, paid a courtesy visit to Vietnamese President Tran Duc Luong and General Secretary of the Communist Party of Viet Nam Nong Duc Manh.

The visit to Viet Nam by Russian Prime Minister Mikhail Fradkov and his entourage aimed to further strengthen political exchanges between the two countries' leaders; review the implementation of agreements reached during visits of high-ranking leaders of the two countries and co-ordinate in promoting co-operation at Asia-Pacific, Southeast Asia, and ASEAN forums.

After Hanoi, the Russian prime minister is scheduled to visit Vung Tau in the South of Viet Nam.