Party chief Nong Duc Manh, President Nguyen Minh Triet, Prime Minister Nguyen Tan Dung and National Assembly Chairman Nguyen Phu Trong of Viet Nam on Tuesday cabled condolences to their Chinese counterparts and the earthquake victims.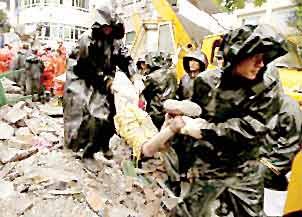 Rescue work carried out in China's Sichuan after the Monday earthquake
On the same day, Foreign Ministry spokesperson Le Dung expressed deep sympathy to China at the huge loss of lives caused by the Sichuan Province earthquake on May 12.
He told reporters, "We are very shocked at the news that the earthquake in Sichuan left thousands dead and missing, and imperiled millions of others."
He showed condolences to the Party, State and people of China and families of the bereaved.
"We strongly believe that the Chinese people will certainly overcome the earthquake consequences and bring production and life back to normal soon," said Mr. Dung.