Viet Nam is too preoccupied with economic development while ignoring science and technology which is one of the most important factors for sustainable development, said Prof. Hiroaki So - former advisor to a late Communist Party Chief at a recent press conference in Ha Noi.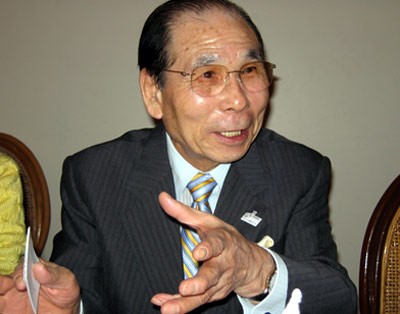 Prof. Hiroaki So delivers a speech at the press conference in Ha Noi.
Prof. Hiroaki, advisor to the late Party General-Secretary Nguyen Van Linh and also Head of the Vietnamese economy Institute in Japan told the press to address him by his Vietnamese name Nguyen Van Song, named by the Party head after his Korean name Song Chun.
The advisor on the "things needed to do immediately" program, part of the Doi Moi (renovation) Policy in 1980s -1990s confidently expressed his pride on the Vietnamese name and said that the late party chief considered him a sworn brother.
Hiroaki first arrived in Viet Nam in 1989 when he was already famous with 300 books published in Japan and the Republic of Korea. During this visit, then-party chief Nguyen Van Linh invited him to advise on Viet Nam's economic development path.
He recalled that when he saw the chief he lowered his head and expressed apology for Japanese and Korean war involvements in Viet Nam considering he was born in Korea and grew up in Japan.
However, the Vietnamese leader stood up, held his hand and said: "Viet Nam cannot afford time to dwell back on the past, it is looking towards the future. As a result, Viet Nam has a lot of things to do. Please help us!"
After that day the leader set aside one week to work with the professor on urgent economic policies. The list of urgent things to do in the Doi Moi Policy included the building of national roads to transport goods from the north to the south, the establishment of a "one-door" mechanism in land management, the training of human resources to meet demands in the new integration period.
The professor also advised Viet Nam to open up its door step by step and steadfastly, otherwise the society could become disordered and the economy unstable.
Answering the question "On what basis did you give these advices when you came to Viet Nam the first time?", Hiroaki smiled and pointing his fingers towards his head and heart, said: by that time I had already studied Viet Nam for five years as I knew for sure that my knowledge about Viet Nam would certainly prove useful one day.
Talking about the motive stimulating him to study Viet Nam, he reminded a book written about the time President Ho Chi Minh lived and worked in France and the US, striving to learn and understand about the countries colonizing Viet Nam.
"This proved the Vietnamese desire to integrate into the world and inspired me to conduct studies on the country", explained the professor.
The seven-day meeting with party chief Nguyen Van Linh made a deep impression on him. Since then, he flew to the country every year.
Afterwards, many Japanese enterprises investing in Viet Nam came to seek his wise counsels.
"I always advise them that they must understand Vietnamese tradition and culture first before eying profits. This is more important than the capital they invest because the Vietnamese people appreciate sentimental attachment", he said.
Mentioning advice for the present, the professor stressed that Viet Nam should study China's development experience, properly prioritize investment projects and establish special economic zones where 100% of goods are produced for export.
"Viet Nam has 54 ethnic groups and every group has a particular tradition and culture. Why does Viet Nam not introduce their traditions and cultures in a book in 5 languages: English, French, Chinese, Korean and Japanese to help the world gain complete knowledge of the country?", he asked instead of giving a counsel.