Viet Nam has times and reiterated our policy of using negotiations to solve all disputes in a peaceful manner on the basis of international laws and practices, said Vietnamese Foreign Ministry spokesman Le Dung as responding to correspondents' queries on the gatherings against China's establishment of San Sha city in Hainan island, which includes Viet Nam's Hoang Sa and Truong Sa archipelagos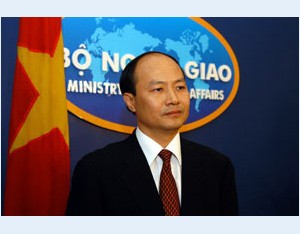 Vietnamese Foreign Ministry spokesman Le Dung
Groups of people gathered in front of the Chinese Embassy in Ha Noi and Consulate in Ho Chi Minh City on December 9 to oppose China's recent moves related to Viet Nam's Hoang Sa (Paracel) and Truong Sa (Spratly) archipelagos were spontaneous actions.
The spokesman reaffirmed: "We have times and again reiterated our policy of using negotiations to solve all disputes in a peaceful manner on the basis of international laws and practices, especially the 1982 United Nations Convention on the Law of the Sea and the 2002 Declaration of the Conduct of Parties. This aims to maintain peace and stability while also seeking a long-term and basic solution that is accepted by all concerned parties."
With this spirit, the two chiefs of the Vietnamese and Chinese government negotiation teams on border and territories met in Ha Noi recently, exchanging opinions on border and territory-related issues in a comprehensive, frank and broad manner, spokesman Le Dung said.
On sea-related issues, they agreed on increasing the speed of negotiations and coordinating in addressing these issues based on the spirit of friendly neighbourliness, fraternity and comradeship, so that not to further complicate the situation, the spokesman stressed.
He went on to affirm that he on December 3 already made a statement about Viet Nam's stance on China's State Council approval to set up San Sha city, which includes Viet Nam's Hoang Sa and Truong Sa archipelagos.