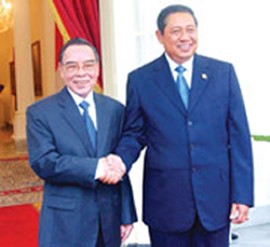 Indonesian President Susilo Bambang Yudhoyono (R) greets Vietnamese Prime Minister Phan Van Khai in Jakarta
Vietnamese Prime Minister Phan Van Khai arrived in Jakarta on February 22, 2006, beginning his official visit to Indonesia at the invitation of the country's President Susilo Bambang Yudhoyono.
After the welcoming ceremony, the Vietnamese Prime Minister met with the Indonesian President. The two government delegations held talks later.
The two sides discussed measures to strengthen and promote the two countries' traditional friendship and multifaceted cooperation, and exchanged their views on regional and international matters of mutual concern. They expressed pleasure at the fine development of the Viet Nam-Indonesia relationship over the past five decades and stressed the need to further bolster multifaceted, long-term and stable cooperative relationship between the two countries in the principle of respecting independence, sovereignty and territorial integrity of each other.

The two leaders agreed to assign the two countries' Ministries of Foreign Affairs to rapidly work out the 2006-2010 plan of action for the two countries to effectively carry out their Joint Declaration, signed in June 2003.
The two sides agreed in building a more attractive and favorable environment for cooperation in trade, investment, agriculture, forestry, fisheries, oil, power, health care, culture, tourism, education and training, security, environmental protection, fighting against terrorism, cross-border crimes, epidemics and natural disasters.
The Vietnamese Prime Minister and the Indonesian President agreed that the two countries would organize the fourth session of the joint committee for economic and trade in Ha Noi. They showed their appreciation to the signing of a tourism cooperation agreement between the Viet Nam Administration of Tourism and Indonesia's Ministry of Culture and Tourism.
As for Southeast Asia, the two leaders reiterated their commitments to support the establishment of an ASEAN community. The three main factors for the community's development are cooperation in security and politics, economic cooperation and cultural-social cooperation.
President Yudhoyono expressed his congratulations to Viet Nam as the host country for the APEC Summit 2006, saying he believed the summit will help boost cooperation among APEC member economies, making Asia-Pacific a dynamic community with prosperity and sustainable development.
The two leaders appreciated close cooperation between Viet Nam and Indonesia at the United Nations through their support for Indonesia to become a non-permanent member of the UN Security Council in the 2007-2008 term and for Viet Nam in the 2008-2009 term.
After their talks, Prime Minister Phan Van Khai and President Yudhoyono witnessed the signing of the two countries' tourism cooperation agreement. The two leaders then told the media about the good results from the two sides' talks.
In the afternoon, PM Khai met with Indonesia Vice President Mohamad Jusuf Kalla and the chairman of the Lower House of Parliament, Agung Laksono.