Deputy Prime Minister Pham Gia Khiem said Viet Nam will do its best to always be a reliable and responsible member of the World Trade Organisation.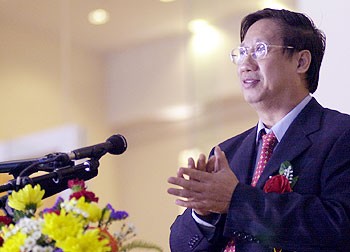 Deputy Prime Minister and Foreign Minister Pham Gia Khiem
He made the pledge at a meeting to mark the country's one-year entry into the world's largest trade body in Ha Noi on January 11.
The Deputy PM also asserted that the country will work hard to make contributions to building a fair and equal global trade system and the prosperity of every member country.
He stated that the WTO entry was of great significance to Viet Nam 's international economic integration, marking the country's equal and full participation into the world trade and proving the correctness of the Party and State's renovation and integration policies.
Deputy PM Khiem added that though Viet Nam has made remarkable achievements over the past one year, these were initial successes, and the country still has to work harder and fulfill its commitments to the WTO in the coming time.
Minister of Trade and Industry Vu Huy Hoang demonstrated the achievements over the past year with impressive statistics, including an economic growth rate of 8.5 percent, a record foreign investment capital of US$20 billion and an export turnover of US$48 billion , a year-on-year increase of 21.5 percent.
He, however, said, the first year implementing WTO commitments also gave rise to many challenges such as an increased trade deficit, overloaded infrastructure and a lack of skilled workers.
Minister Hoang said his ministry will try to boost export through negotiations on free trade areas with China , the Republic of Korea , Japan , Australia , New Zealand and India , as well as by increasing trade promotion activities.