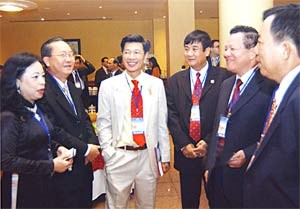 Participants at the APEC Investment Forum 2006 discuss during break time.
Viet Nam spares no efforts to speed up the process of world economic integration and in an active manner to attract foreign investment, said Vietnamese Prime Minister Nguyen Tan Dung at the opening of the APEC Investment Forum 2006 on Wednesday.
Addressing the forum, PM Dung said the APEC Investment Forum 2006 plays a very important role as it provides all member economies an opportunity to share experience, work out measures to improve the investment environment and quality.
He told around 600 delegates from the 21 APEC member economies at the forum to present recommendations to translate the theme of the 14th APEC of "Towards a dynamic community for sustainable development and prosperity".
The PM said that by hosting this forum, the Vietnamese Government showed its strong determination to boost the cooperation within APEC, aiming at creating new waves of investment among APEC member economies in general and from APEC to Viet Nam in particular. He cited a recent statistic that APEC accounts for 70% of Viet Nam's export and 73% of FDI into Viet Nam.
Vietnamese Minister of Planning and Investment Vo Hong Phuc told the forum that for over several years the country has successfully implemented its commitments and bilateral agreements with members of many international organizations such as ASEAN, ASEM and APEC.  
The country has become the 150th member of the World Trade Organization and pledged to comply with agreements signed by Viet Nam and the world largest trading club, Mr. Phuc added.
He also cited the National Assembly's ratification of some key laws including the Investment Law, the unified Enterprise Law, saying that these laws have been designed to create the most favorable conditions for foreign partner's to invest in Viet Nam.
Furthermore, Viet Nam is striving to boost the administrative reform, combating against corruption, according to Mr. Phuc, and improving its legal system with the new born of many encouraging policies and laws to give foreign investors the most freedom and fairness when they do business in the country.
"Viet Nam's successful integration into WTO demonstrates that the country's legal system is consistent with international rules," he said.
Attendants at the APEC Investment Forum 2006 were also representatives of the American Chamber of Commerce, international organizations and investment funds, who gave their contributions to the APEC's investment environment improvement. 
Most of them agreed that Viet Nam is an attractive destination thanks to its stable political and social environment, cheap and high-quality labor force.
M. Tosto, an expert in Viet Nam's investment environment consultancy concluded that the country will be an ideal destination for investment if it improves the legal framework and solve effectively current hot issues like intellectual property and copyrights in accordance with international rules.