Viet Nam Summer Camp 2007, the fourth of its kind, will be attended by over 70 high-achieving overseas Vietnamese (OV) students and will take place across several provinces and cities nationwide from now until July 31.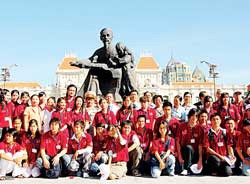 OV youths offer flowers to the Uncle Ho's statue in Ho Chi Minh City.
During a talk in Ha Noi yesterday, Mr. Tran Trong Toan, Deputy Chairman of the Overseas Vietnamese Committee, recommended that the current generation of young overseas Vietnamese students study hard, respect and preserve their national character and unite together to build a stable community of overseas Vietnamese that contribute to the nation's development.
The annual summer camp aims to provide overseas Vietnamese youths with a deeper understanding of their fellow countrymen and their homeland Viet Nam.
The camp is for OV youths aged between 15 and 30 and has been co-organized by the Overseas Vietnamese Committee and the Central Committee of the Ho Chi Minh Communist Youth Union.