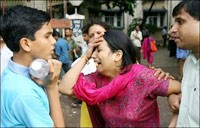 The woman mourns for her relative (Photo: AFP)
Being informed of several serial bomb explosions on packed commuter trains and stations during rush hour on July 11 in Mumbai, India's financial hub, that cause great losses to the Indians, Viet Nam's President Nguyen Minh Triet has sent a message of condolence to India's President Abdul Kalam and victims' families.
The message says: "On behalf of the Vietnamese State and people and myself, I convey to you and victims' families my sincerest sympathy and condolence. Viet Nam fully believes the Indian State, government and people will recover from the consequences of the blasts to stabilize the situation and further develop".