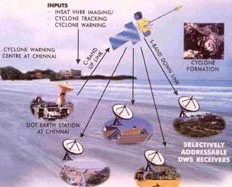 Tsunami Warning System
A system of three tsunami warning stations will be installed on the Viet Nam's East Sea, said Nguyen Ngoc Thuy, Head of the Global Physics Institute of the National Science and Technology Institute.
The stations, worth US$20,000-30,000 each, can give warnings of tsunami one hour before they reach the Vietnamese coast.
Locations for installing the stations are being decided by American experts and Vietnamese scientists from January 9-20.
In addition, Vietnamese Prime Minister Phan Van Khai assigned the Ministry of Natural Resources and Environment (MNRE) a leading role to develop a plan of the tsunami and earthquake warning system for Viet Nam by June 30, 2006.
The MNRE and the Ministry of Foreign Affairs were also assigned by the Government to complete formalities of joining a tsunami warning system over the Pacific region.
Cooperation among the Ministry of Science and Technology, the Central Standing Committee for Storm and Flood Control, the National Committee for Search and Rescue, the Viet Nam Science and Technology Institute and other related agencies are required to design a conspectus of the warning system for earthquakes, tsunamis, tropical low pressure systems, storms and flooding by 2010.