Prime Minister Nguyen Tan Dung witnessed Tuesday the signing of five deals worth approximately US$1 billion between Vietnamese entrepreneurs and British partners during his visit to the United Kingdom, Germany and Ireland.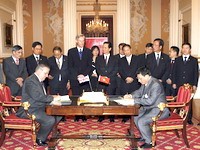 PM Nguyen Tan Dung witnesses the signing of a deal between the Viet Nam Industrial and Commercial Bank and Standard Chartered on March 4
During a meeting with the Lord Mayor of the City of London, Alderman David Lewis, the Prime Minister said Viet Nam will create more favorable conditions for businesses from the UK to expand and operate efficiently in the country.

PM Dung informed Lord Mayor Lewis of the Vietnamese government's decision to grant licenses for two British banks, HSBC and Standard Chartered, to establish their entirely foreign-owned banks in Viet Nam.

After the meeting, PM Dung and the Lord Mayor witnessed the signing of five agreements worth US$1 billion in total between the Vietnam Oil and Gas Group (PetroVietnam) and the UK's businesses: Salamander and SOCO; between the Viet Nam Industrial and Commercial Bank (Incombank) and Standard Chartered. Other agreements were signed between the Bao Viet Insurance Group and HSBC Insurance and between Lilama and Mott MacDonald.

Earlier, during talks with the UK's leading financial experts, PM Dung said the Vietnamese government is working effectively to bring the country out of poverty. The GDP per capita is expected to exceed US$1,000 by 2010, and by 2020 the country hopes to be classed as industrialized. At the moment, the government is prioritizing measures to curb inflation and mobilize capital resources for investment.

Answering some questions about Viet Nam's economic policies, particularly those related to banking and finance, PM Dung confirmed that foreign banks meeting all the requirements of the Vietnamese law will be permitted to open completely foreign-owned banks in the country.

He also said Viet Nam will do its best to push economic, trade, investment, cultural, educational and scientific cooperation with the UK to a new level.