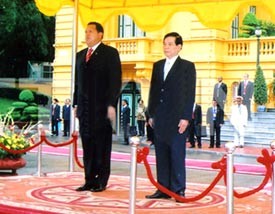 President of the Bolivarian Republic of Venezuela Hugo Rafael Chavez Frias (left) and Vietnamese President Nguyen Minh Triet (right) are at the welcome ceremony. (Photo: VNA)
Viet Nam and Venezuela signed three governmental-level cooperation accords, including a framework agreement for cooperation, a cultural cooperation agreement and a cooperation agreement on energy matters.
The signing took place in Ha Noi on July 31, which is the first day of Venezuelan President Hugo Chavez's two-day official visit to Viet Nam.
On the morning the same day, a red carpet was rolled out at the Presidential Palace to greet President Chavez, who became the first Head of State of Venezuela to visit Viet Nam since the two countries established diplomatic ties in 1989.
At a cordial reception for the Venezuelan top leader held later, President Nguyen Minh Triet stated that this is a historical visit in the two countries' bilateral ties.
He elaborated that the visit will provide the two countries' top leaders with a chance to exchange views on issues of mutual concerns and work out measures to bolster their time-honoured relationship, cooperation and development for the sake of their peoples' benefit, as well as for peace, stability and development in the two regions and the world at large.
President Chavez said he has admiration for Viet Nam's history, the Vietnamese people's heroism, and the achievements that they have made in national construction and international economic integration.
He also affirmed that he personally admired the Vietnamese people and President Ho Chi Minh.
Later in the day, President Triet held talks with his Venezuelan counterpart.
The talks were then followed by the two leaders' press briefing during which they mentioned various aspects of bilateral ties, including cooperation potential in the fields of economics, social affairs, culture, education, science and technology, healthcare, agriculture, industry and energy.