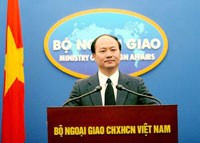 Mr. Le Dzung, Spokesman for the Ministry of Foreign Affairs
"Viet Nam welcomes UN Resolution 1701 which aims to put an end to the violence occurring over the last month in south Lebanon," said spokesman for the Ministry of Foreign Affairs Le Dzung on August 14.
"Viet Nam also calls upon relevant parties to strictly implement the UN Resolution and adopt practical actions so that peace will soon return to the region," he added.
Passing the Resolution, the UN urges a "full cessation of hostilities" and plans a deployment of 15,000 UN troops in Lebanon to enforce the ceasefire. Resolution 1701 says Hezbollah must end attacks on Israel while Israel must end "offensive military operations" in the Lebanese territory.