The public were shocked by a series of chronicle articles captioned "Vietnamese virgins coming to Korea - a nation of hope" published by the Korean Daily Chosun on April 21 of the marriage between Vietnamese girls and Korean men. Sai Gon Giai Phong (SGGP) newspaper reporters took note of the ideas about this issue.
Nguyen Thi Kim Thuy – Vice President of the Viet Nam Women's Union (VWU):

Ms. Nguyen Thi Kim Thuy
To have an inquiry into the activities of Cycle Company- A matchmaking Company in Ho Chi Minh City.

VWU condemns the article as violating human rights, disgracing Vietnamese women and their dignity. The Union strongly protests the content of the article as it displayed an insensitive, cold and irresponsible attitude as well as advertisements in Republic of Korea about Vietnamese brides.

VWU requests the Chosun newspaper to officially apologize to Vietnamese women particularly who were shown in a picture carried along with the article, Vietnamese women in general and Vietnamese people the article has caused any hurt.

After the event happened, VWU has required VWU in Ho Chi Minh City start an inquiry into the activities of the Cyclo Matchmaking Company placed in Ho Chi Minh City as well as local authorities to deal with such companies in accordance with Vietnamese law.

In addition, Ho Chi Minh VWU would try to find the addresses of these girls and find out why they are coming to the companies and why they want to get married to Korean men, the union also asks the related authorities to prevent this phenomenon. Furthermore, VWU has directed its members and women to discover and immediately report to the local authorities any women and children trafficking at their localities.
Uong Chu Luu - Viet Nam's Minister of Justice:
There should be legal aid agreement on marriage and family.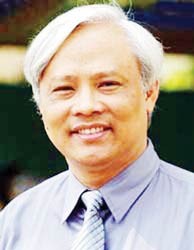 Mr. Uong Chu Luu
Justice Ministry has promulgated a law that if foreigners want to get married to Vietnamese people, they must verify their marriage aim and be interviewed at the justice departments before they can be issued with the marriage certificate.

In reality, however, matchmaking companies, for example Korean companies, send documents to Korea and later back to Viet Nam. This is a matter for us to think about. In the future we will thus have a meeting with the Korean Embassy and Justice Department to work towards a solution.

In my opinion, there should be a legal aid agreement on issues of civil and marriage and family. These agreements should cover health test, language skills and marriage aim. Above all, there must be coordination between the two departments to manage this. We have prohibited matchmaking services but it exists in the other countries.
Regarding to the article on Chosun newspaper, a Vietnamese female student studying at Korea National University said Vietnamese people in Korea were welcomed with friendship and respect. But since the boom of matchmaking companies have been established and after the article had been published, she was questioned whether she had come to republic of Korea to look for a "Korean prince'.

It is thus clear that the matter is not only related to law any more but social and moral issue. Foreign Affairs Ministry is also responsible for this matter, in my view.
Nguyen Hoai Thu, Chairwoman of the NA Committee for Social Affairs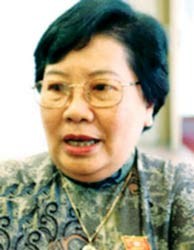 Ms. Nguyen Hoai Thu

It is necessary to against these marriages with wrong aim
In 2005, I went to Republic of Korea, seeing some banners in the streets. The translator said they are advertisements for marrying Vietnamese women. It said Vietnamese women are diligent and suitable for Korean men because they have the same culture; Korean men were thus encouraged to marry Vietnamese women.

However, all these words matchmaking companies use such as "To marry Vietnamese virgins", "Elderly, re-married and disabled men can get married" or "they can exchange wives" are wrong, against the aim of marriage. This smears not only Vietnamese women's dignity but Korean prestige.

In my opinion, women must protect themselves. Parents should also take some responsibility. Are parents happy when living in the houses built on money taken from marriage of their child?
Pham Tien Van, Vietnamese Ambassador to Korea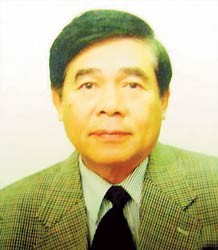 Mr. Pham Tien Van




The lives of Vietnamese women must be insured.
These days, Vietnamese Embassy to Korea has watched this matter closely. In general, newspapers in Korea have covered the incident with positive and friendly attitude, helping Korean people have a right view of Viet Nam and its people.

Through the article on Chosun newspaper, it is necessary to thoroughly consider marriage between Korean men and Vietnamese women in long term. This is a sensitive matter, affecting the feeling and the dignity of not only women but many readers.

Vietnamese embassy will have a meeting with Korean newspapers about media obligation. Reporters must have "both heart and mind" in line with media ethics when releasing the news. In addition, the embassy within its responsibility must find out the way to ensure the lives and legal rights of over 10,000 Vietnamese brides in Korea.

From our preliminary evaluation, they have stable lives. Some, however, face marriage breakdown or even violence because of poor understanding of tradition, customs and language barriers. The embassy in coordination with Korean authorities will interfere, help and protect Vietnamese women immediately,
In Viet Nam, authorities have to take effective measures to prevent illegal matchmaking activities so that violations against Vietnamese women's dignity won't happen again.
Related Article: