With the help of international organizations, Viet Nam is cleaning up many dioxin-polluted environments throughout the country that were hit hard by the toxic Agent Orange chemical recklessly sprayed upon the land by the U.S. Military.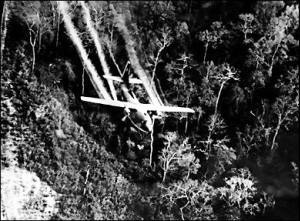 The toxic dioxin was spayed over Vietnamese forests by the US Army's planes.
Though the spread of Agent Orange travesty stopped thirty years ago, the vicious campaign left a toxic legacy of dioxin infested areas that still cause ill health to Vietnamese through out the country.
The Vietnamese Government has drafted a VND70 billion national plan to clean up dioxin-polluted hotbeds by 2007.
In the name of correcting the Agent Orange international injustice, The United Nations Development Program (UNDP) is also raising US$10 million to help Viet Nam detoxify dioxin nationwide.
Three US companies, namely Ford, Orion and Bem, are conducting research on detoxification measures for A Luoi district, a dioxin ridden area in the central province of Thua Thien-Hue.
On the occasion of the Day for Vietnamese Agent Orange (AO) victims August 10 (Thursday), leaders of the Vietnam Agent Orange/dioxin Victims Association (VAVA) visited many victims and their families in the northern provinces of Thanh Hoa and Ninh Binh Tuesday.
A musical performance dedicated to AO victims, "Cong Ly cua Trai Tim" or Justice of the Heart, will take place on August 9 in Ha Noi as part of a bid to call on local and international communities to extend material support to AO victims in Viet Nam.
Viet Nam is home to over three million AO victims among nearly five million people who have been exposed to the chemical, according to Mr. Tran Xuan Thu, Deputy President of the VAVA.