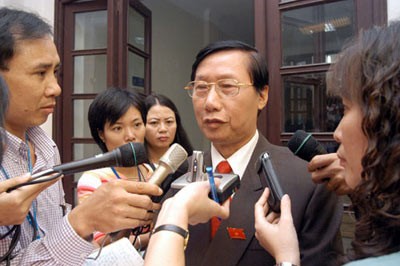 Mr. Nguyen Duc Kien in a press interview
A delegation of the Vietnamese National Assembly's Economic and Budgetary Committee led by Mr. Nguyen Duc Kien, member of NA Standing Committee and chief of the NA Economic and Budgetary Committee has recently paid a working visit to the United States.


The visit aims to survey some issues in economy, finance, budget and audit as well as some activities concerning the US Congress's approval of the bill on granting the Permanent Normal Trade Relations (PNTR) status for Viet Nam.
During the visit, the Vietnamese officials announced some socio-economic achievements of Viet Nam and discussed some issues about budget, tax and tax management, bilateral trade before and after WTO accession and the role of audit as well as the connection between auditing agencies and Congress and the government.
The group has courted the US senators and officials' support to urge the US Congress's approval of PNTR for Viet Nam.
The group also attended the 11th anniversary of Viet Nam – US Normalization of Diplomatic Relations held by the Vietnamese Embassy and paid a visit to the Vietnamese staff in the United States and worked with some economic and financial experts and lecturers of Harvard University in Boston.