At an official ceremony to welcome the UN chief on May 24 in Ha Noi, Mr. Kofi Annan told President Tran Duc Luong, "I come to Viet Nam because of the effective cooperation between the UN and Viet Nam over the last 30 years. Personally, I have kept my promise to your excellency Mr. President, to pay a visit to Viet Nam ."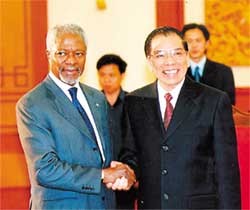 Secretary General Kofi Annan(1st,L) shakes hand Mr. Nong Duc Manh
President Luong warmly welcomed Secretary General Annan and described his visit to Viet Nam as a demonstration of his special attention he pays to the country and its people.
"Viet Nam highly appreciated the UN's role as well as the good relations between Viet Nam and the UN in general and between the country and UN agencies in particular over the past years." Mr. Luong said.
Secretary General Kofi Annan expressed his appreciation of Vietnamese government's role in leading the country to achieve the Millennium Development Goals (MDG). He said Viet Nam has made considerable progress towards education and health.
The UN Secretary General told his host that Viet Nam is leading other countries in Millennium Development Goal achievement, confirming the UN's believes that the country will achieve these goals before 2015, some of them may even be reached by 2010.
The two sides expressed their hope that the visit would help promote the Viet Nam-UN relations on three pillars: peace, development and human rights.
The UN chief sent a message of condolence to the Vietnamese Government and people for recent losses of human lives and properties caused by Typhoon Chanchu. He also said that he will instruct UN coordinators in Viet Nam to work closely with the Vietnamese Government to provide timely hydrometeorology information for people to help them reduce the impact of natural disasters.
On the same day, Secretary General Kofi Annan met Party General Secretary Nong Duc Manh. Mr. Manh spoke highly of cooperation between the UN and Viet Nam for over the past 30 years. General Secretary Mr. Nong Duc Manh emphasized that Viet Nam has gained outstanding achievements thanks to UN's active cooperation, particularly during the country's 20 years of reforms.
Party General Secretary Nong Duc Manh affirmed that Viet Nam places importance on the UN body, with its lofty goals and charters. He promised that Viet Nam will make all its efforts to contribute to the UN's strength for the aims of peace, independence, prosperity and mutual development.
In the meeting with the Prime Minister Phan Van Khai, Secretary General Kofi Annan applauded the socio-economic achievements Viet Nam has obtained after the war, especially, Viet Nam's successes in poverty alleviation, bridging the gap between the rich and the poor. He also hailed Vietnamese government's attempt in strengthening democracy at grass-root levels, saying that the UN's determination to share its experience in fighting corruption and improving the lives of ethnic minority people and gender equality.
He also met with Foreign Minister Nguyen Dy Nien and worked with the National Steering Committee for Bird Flu Prevention and control to find out the measures against the epidemic.